Learn how to get paid to read books aloud and find the best ways to make money as an audiobook narrator.
If you have a passion for reading books and you spend a lot of time doing it then you can literally get paid to read books aloud.
I know that for some of you, it may seem like an odd way of making money but it is a legit side hustle that many people do to make extra money. In fact, many freelancers work as narrators and get paid to read audiobooks for a living.
Nowadays, lots of companies search for people to read books out loud, so the demand is definitely there, and you can actually find many opportunities to do just that.
To be more precise there are many different ways and places where you can get paid to read books aloud and each place has its own qualifications and requirements.
For example, you could make money narrating audiobooks, doing voiceovers for commercials, doing voiceovers for educational videos, or anything else that includes a voiceover.
As we all know, over the years, audiobooks have gotten into our daily lives more than ever and if you have a great voice you could really make a lot of money from this.
In this article, I will show you exactly how you can get paid to read books aloud and also use your voice for similar jobs that require voice-overs.
This article may contain affiliate links. Please read Disclaimer to learn more.
Why do companies pay you to read books aloud? 
You might find it hard to believe that companies are willing to pay people to read books aloud but the demand is super high and voice-over talent is needed in multiple aspects of this modern world.
In today's digital world, audiobooks are a well-established form of digital entertainment. I am sure you are familiar with platforms like Audible, iTunes, Google Play, or Scribd.
Platforms like those make a lot of money from selling audiobooks every single month and that's why the demand for audiobook narrators is so high.
Believe it or not, there are a lot of people who prefer to listen to a book rather than read it. It's a more convenient and phenomenal way of experiencing stories and you can do that almost everywhere.
Because of this high demand, someone with a great voice can get paid to read books aloud and make lots of money from it.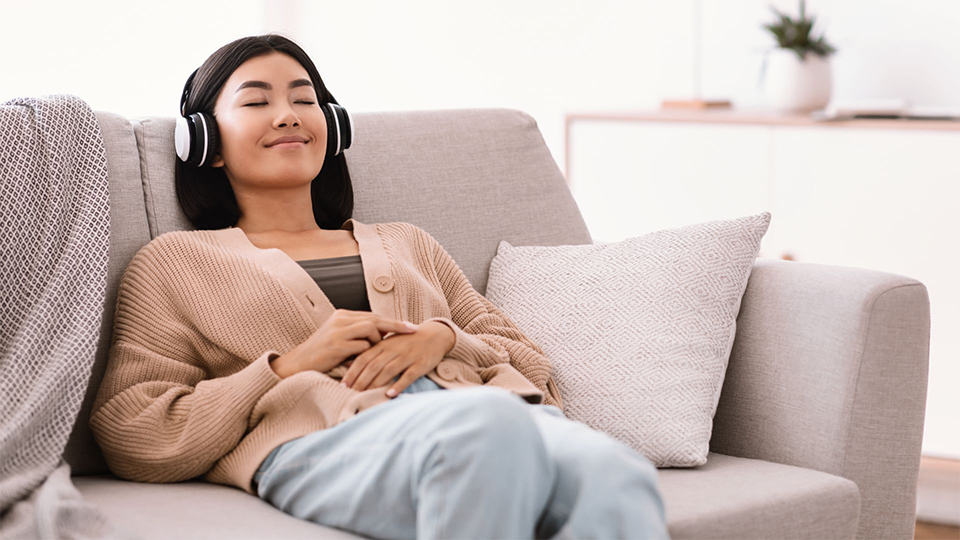 How to get paid to read books at home
If you are interested in getting paid to read books aloud, you first have to find a platform that offers you that. There are many legit websites that you can sign up to and begin making money as a book narrator, so you will have to decide on which platform suits you best.
After you have signed up, you will have to fill in some personal information and build your portfolio. The more promising your profile and portfolio look, the more chances you'll have for clients to choose you instead of others.
We will check out the best platforms where you can narrate books for money in a moment, but right now I am going to explain to you what you'll be doing as a book narrator and what kind of work you are going to deal with.
Thousands of authors are interested in converting their finished books to audiobooks to maximize their earnings and keep up with book lovers' needs. That's where you come in.
As a narrator, you are going to be responsible for completing projects for clients. Once you find a project that you like, or a client wants you to narrate their book, you both have to agree on the terms of this project.
The client will give you all the details about how they want the final audiobook to be and after that, you should inform him of your rate and about how long you need to complete the project.
Once you begin working on it, you guys can still contact each other for any queries that may arise until completion.
Once you send the client the finished project, he will then send you the agreed payment and you can then start searching for other projects that let you get paid to read books at home.
*SPECIAL OFFER* SAVE 70% ON BLUEHOST HOSTING! Start your own blog with only $2.95/month (Normally $10.99) and build your online business today!
Check out my step-by-step guide and start your blog today!
How much do book readers get paid?
Book narrators can make anywhere from $50 to $250 per finished hour and in some cases even more.
More specifically, amateur book narrators can expect to earn from $50 – $100 per finished hour whereas experienced narrators can earn up to $250.
Usually, book narrators get paid per finished hour (PFH) but they can also get paid with fixed rates that vary from project to project. They can also get paid by royalty share where you get a percentage of an audiobook's sales.
How much you get paid to read books aloud also depends on the platform you are using, so keep that in mind.
As you can see, recording books for money can be a very lucrative side hustle and that's why many people narrate books for a living.
16 sites where you can get paid to read books aloud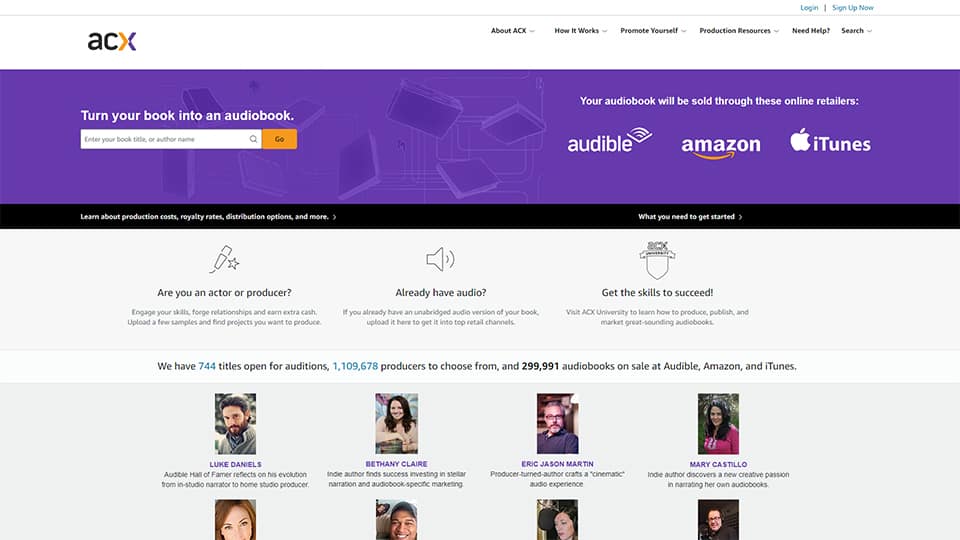 ACX by Amazon is the most popular website for audiobook narration on the Internet and it does an excellent job of connecting authors/publishers with thousands of narrators.
If you are serious about the whole "get paid to read books aloud" side hustle, ACX is the first place you should try.
Millions of audiobooks have been made using this platform and you can too read books out loud for money, for projects that will get published on platforms like iTunes and Audible.
If you already have an Amazon account you can simply use it to sign up for ACX otherwise you'll need to make one from scratch.
After the signup process, you'll need to fill out the necessary information in your profile, showcasing your level of experience and other details that might be useful for potential clients.
You can also record and upload many audio samples to your profile page so that you have more chances for authors to choose you.
Last but not least, you should choose if you want to get paid per finished hour (PFH) or by sharing 50% of royalties from the audiobook sales.
When you are done with your profile, you can then start searching for audiobooks you are interested in narrating. There are countless books on the platform so you'll definitely find something that suits your interests.
Once you find something, you can simply record and send the author a few minutes of the audiobook's manuscript so that he can choose if your voice suits their project.
If an author approves your audio samples, he will then send you an offer and you can either accept or reject it depending on your standards.
For a more detailed guide on how to work as a narrator with ACX, check out the ACX Narrators page.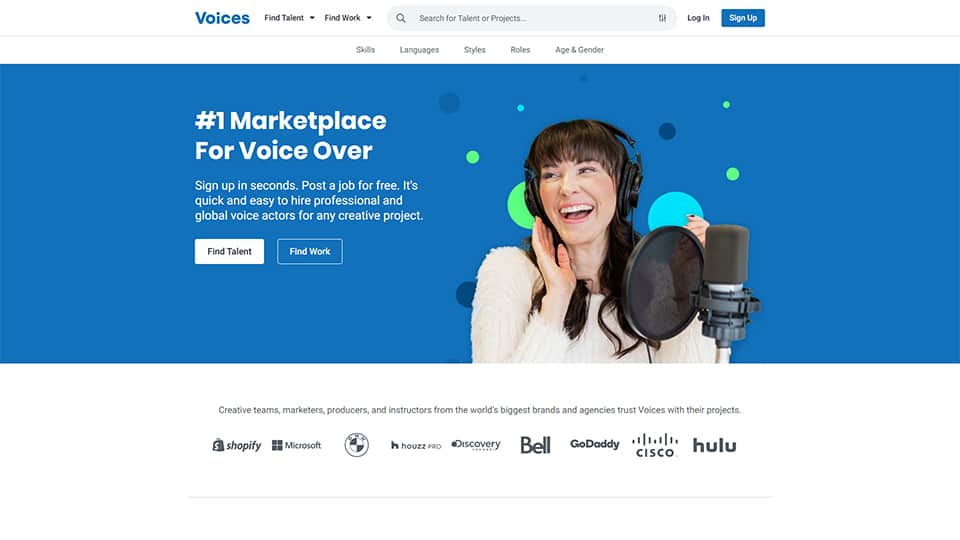 Voices is another great and highly valued website where you can provide your services as an audiobook narrator. Thousands of people are looking for narrators every single day, so rest assured that you will find a wide variety of projects.
In fact, big brands like Microsoft, Shopify, Hulu, The History Channel, and Los Angeles Times have been trusting Voices.com with their projects for quite some time.
A huge advantage of this platform is that it has audiobook narrators from all over the world, covering many languages, so if English is not your native language you can still make money from narrating books.
Once you sign up, you'll be prompted to fill out your profile and showcase your narrating skills by uploading some audio samples of yours. After that, you'll start receiving job invites from people who want you as their narrator.
Voices also provides a paid premium membership where you can get matched with client jobs automatically depending on your profile. For most people though, the free membership is more than enough and it won't play a huge role in the money you can make.
Keep in mind that every time you are about to work with someone, you'll need to write a proposal and upload a response file. This will help the people see if you are the right person for what they need.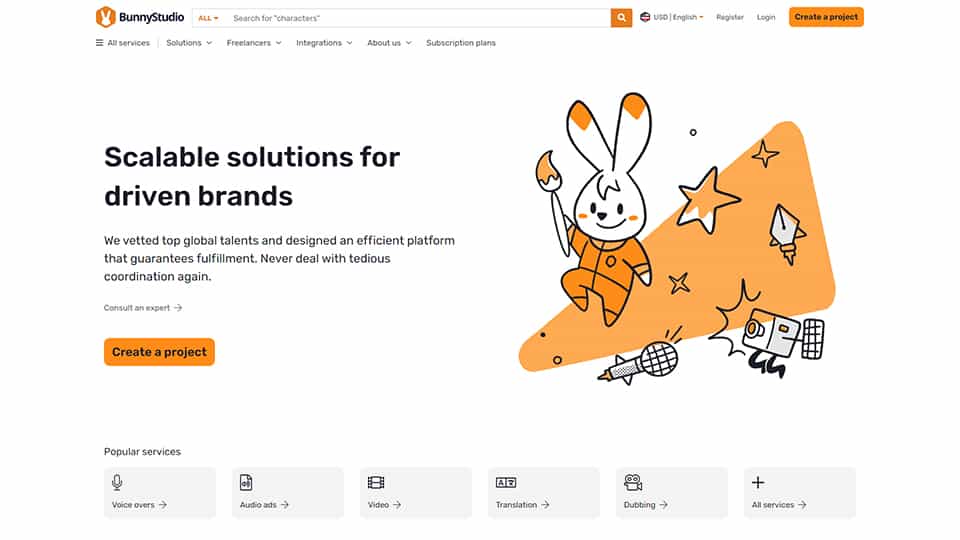 BunnyStudio is also a trusted platform where you can get paid to read books aloud. More specifically, it provides services in categories like audio, design, translation, video, and writing.
It is considered a very high-quality platform where lots of big brands and highly valued customers are looking for freelancers for their projects, and because of that, they are a bit strict when it comes to the number of freelancers they let onboard.
When you sign up for the first time, you should choose the "join as a freelancer" option. After that, you will have to finish setting up your profile by providing detailed information about your skills and experience in the field.
Once you do that, BunnyStudio will send you an application project that you'll have to complete in the next 48 hours. This is needed for them to decide if they accept you on their platform or not, so you better give it your best.
If they accept you after they review your application project, you will immediately join the community as a BunnyStudio Pro member and you'll start making good money for narrating audiobooks and doing voiceovers.
As a freelancer of the platform, you will be able to set your own rates based on how good of a narrator you are, and customers will be able to find you when they are searching for freelancers.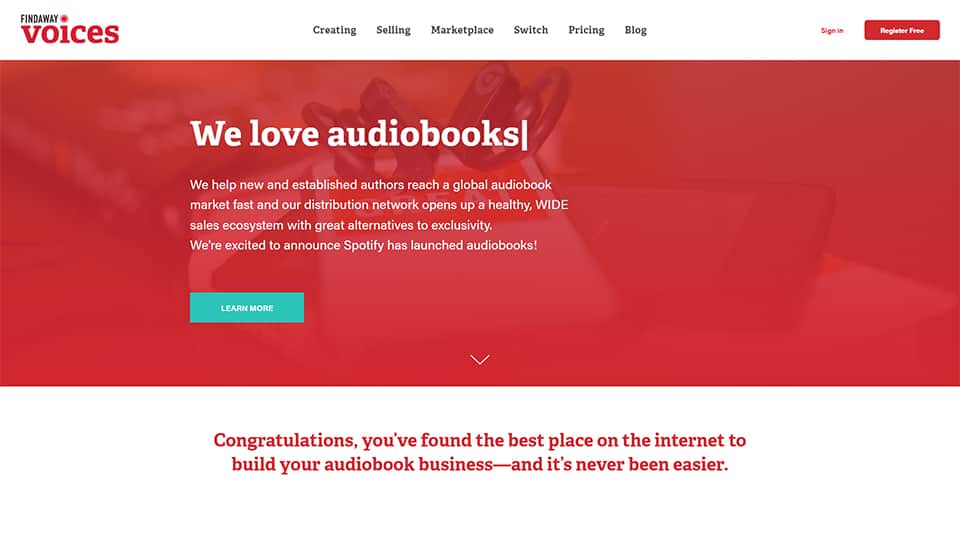 Findaway Voices is a widely known platform that helps thousands of new and established self-published authors create and publish audiobook versions of their books.
Authors use the platform's marketplace to connect with narrators all around the world, and with the use of filters, find the best potential narrator for the job.
As a result, you won't have to actively search for projects because the platform itself will match your profile with the most fitting projects on the Marketplace.
Once you sign up as a narrator, you'll need to set up your Marketplace narrator profile and set your rate on a per finished hour basis, so that you can start working on projects once an author chooses you.
When an author wants you to narrate their audiobook they'll send you some files which you'll have to agree to and sign.
Findaway Voices also provides an Audiobook Mastering Guide that shows narrators how to create high-quality audiobooks so that your customers are as satisfied as possible with your work.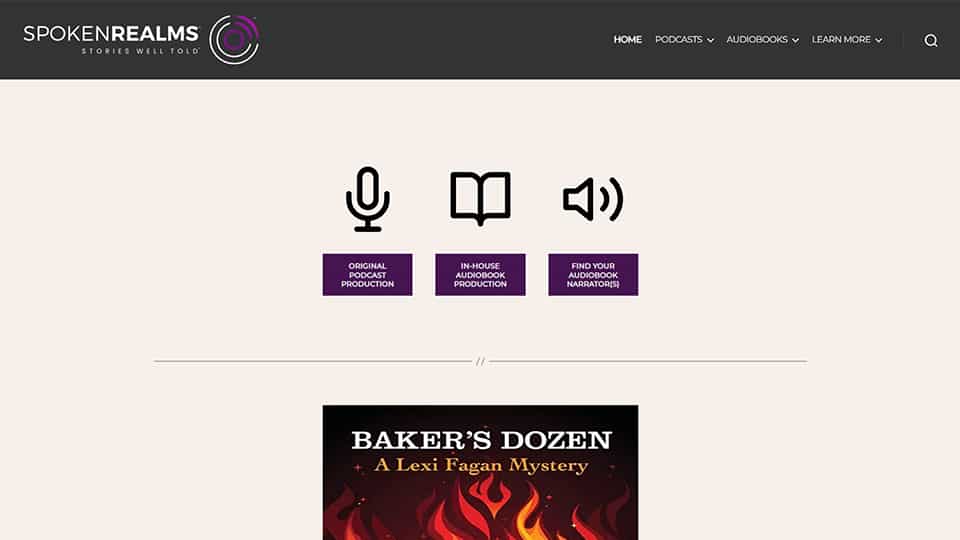 Spoken Realms is yet another site where you get paid to read books aloud for money. Many authors use it to find audiobook narrators that will suit their needs and help them bring their books to life.
This platform has a very large community of passionate storytellers, so you can expect to find many opportunities that have to do with narrating graphic novels or reading podcasts.
It also is kind of selective with the people they let onboard, so you better have a strong portfolio ready when you decide to join them.
On Spoken Reams, you can get paid per finished hour (PFH) or by royalty share.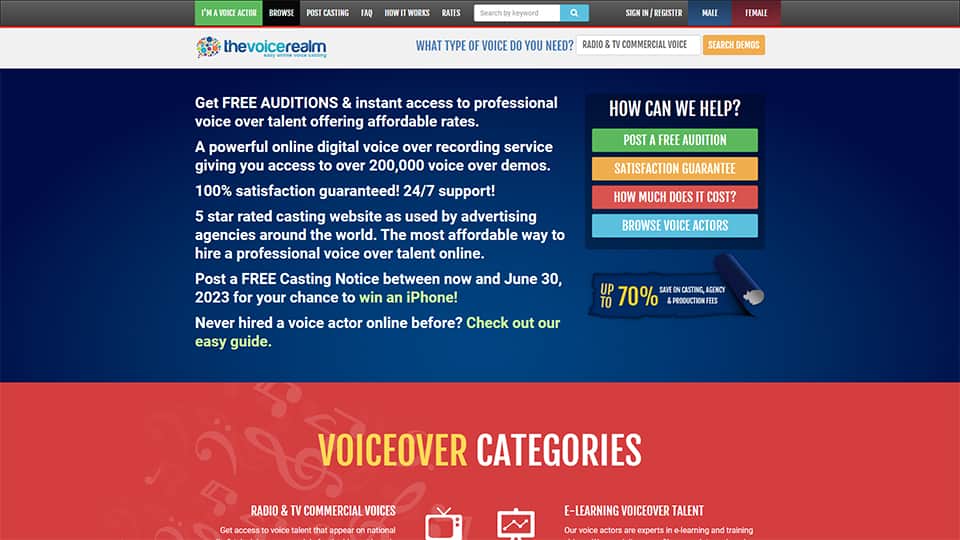 The Voice Realm is a huge directory that offers voice-over services to people all around the world. Having booked over 100,000 voice-over jobs they are a trusted and preferred platform in this field.
When it comes to language availability, they mostly provide voiceovers in English, British, Australian, French, and German.
Their voice-over categories include:
Radio and TV commercial voices
Audiobook voiceover narrators
Internet video voiceovers
Business and training recordings
E-learning voiceover talent
Telephone voiceover recordings
If you wanna join them and make money reading books aloud, all you have to do is sign up by filling out some personal information and the kind of equipment you use for recordings.
You will also have to upload a demo recording of yours, which will play a big role in whether they will accept you or not.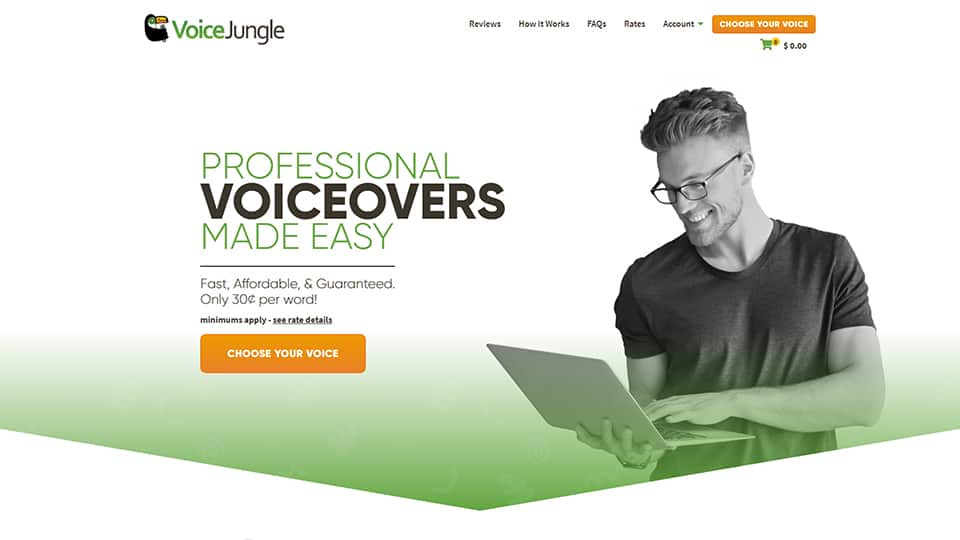 Voice Jungle is a platform that offers voiceovers for projects in categories like e-learning, commercials, phone messaging, explainer videos, characters, and podcasts.
If you want to get paid to read books aloud I would specifically recommend the e-learning category where you can read stuff for online education or any other instructional platform. You can also choose other categories like reading podcasts or explainer videos.
If you are interested, all you have to do is fill out this form and upload an MP3 demo of your work. After they review your request, they will email you to let you know if they accepted you or not.
The benefits of the platform are that there are no listing fees to join, you don't need to audition for each project, and payments are issued right after the client accepts the demo.
You don't even have to actively search for projects. Once a client likes your demo they will contact you directly via email.
Last but not least, keep in mind that if you want to work with Voice Jungle you should know that they have two requirements:
You must have a home studio and meet standard quality requirements
You must be able to complete projects within at least 24 hours when requested
This platform focuses on making the whole procedure as simple as possible and they are super professional about it. Moreover, you can expect to make really good money using it, as it pays exceptionally well.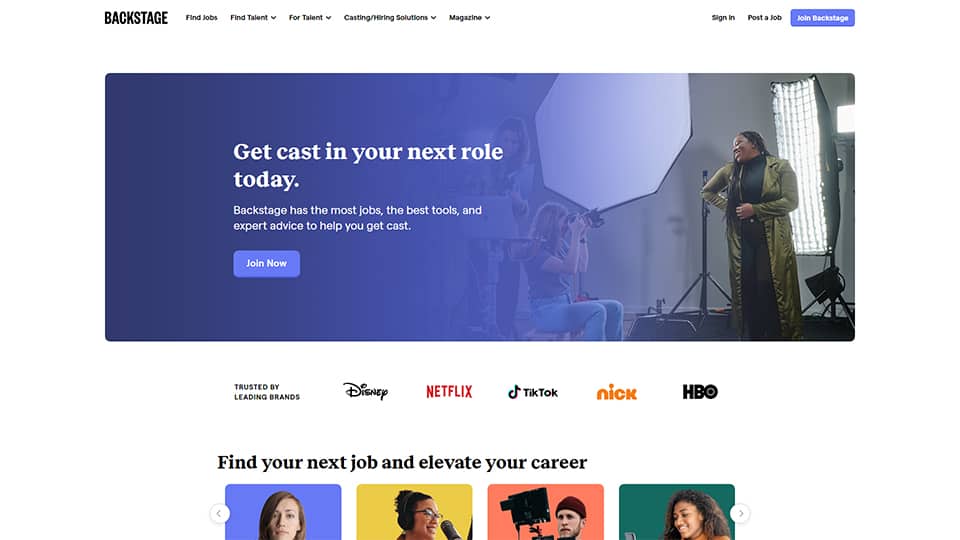 Backstage is a platform where actors and performers offer their services to creators of any kind, but you can still use it to get paid to read books aloud and do voiceovers for different kinds of projects as a freelancer.
This website has a huge community and is trusted by leading brands like Disney, Netflix, HBO, TikTok, and Nickelodeon, making it one of the best choices for creators all around the world.
For example, you can find posted jobs for audiobook narration, voiceover for videos, reading podcasts, educational videos, and much more.
When you sign up with them, you will have to choose one of the following subscription plans:
Yearly plan $8.25/month (billed yearly)
6-month plan $16.60/month (billed bi-annually)
Monthly plan $19.95/month (billed monthly)
Despite the paid membership, you can make a lot of money using the platform since thousands of jobs are getting posted every single day. Think of it that way, if you just work on a single project per month, you will have made more money than you would have paid for the membership.
Once you choose your plan and become a member, you can begin searching and applying for jobs right away.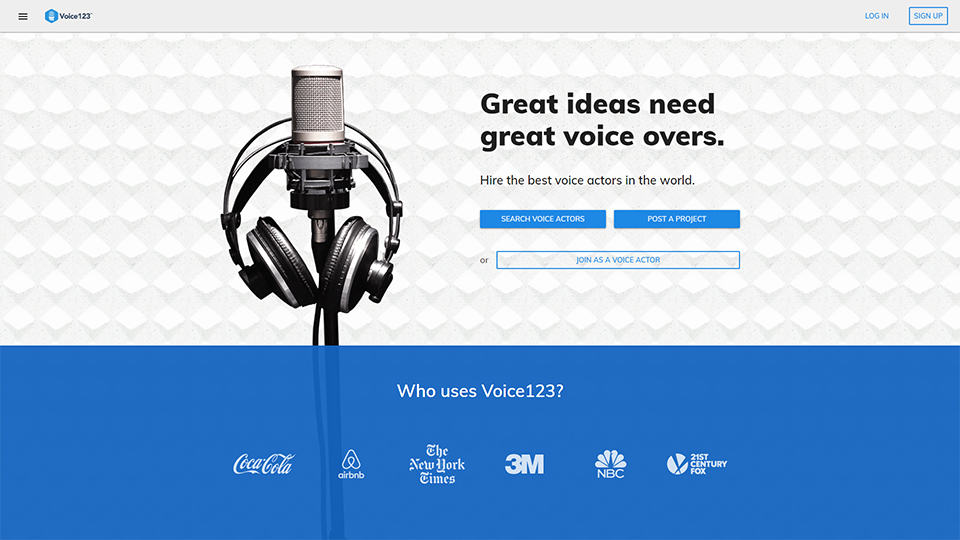 Voice123 has been around since 2003 and is a freelance site that helps creators find the best voice actors for their projects. Creators can find voice actors by either searching and contacting them directly or by posting jobs.
Big brands like The New York Times, Coca-Cola, Airbnb, and NBC have trusted Voice 123 with their projects so you can rest assured that this is a legitimate and very professional freelance marketplace.
As a freelancer, you can do voiceover work in categories like:
Narration
Cartoon
Commercial
Movies
Radio
Video Games
Before you create your account as a voice actor, you'll be prompted with a short quiz asking you questions about your skills and expertise. This will help the platform better understand your capabilities as a freelancer.
After the creation of your account,  you can either audition for the projects you like or just sit back and let clients contact you directly. If you get chosen for the job, you then negotiate terms and start working right away.
The best part about this website is that it doesn't charge you any fees at all to use it and you get paid directly by the client when you finish the project. This is really good as you get to keep 100% of the money you earn.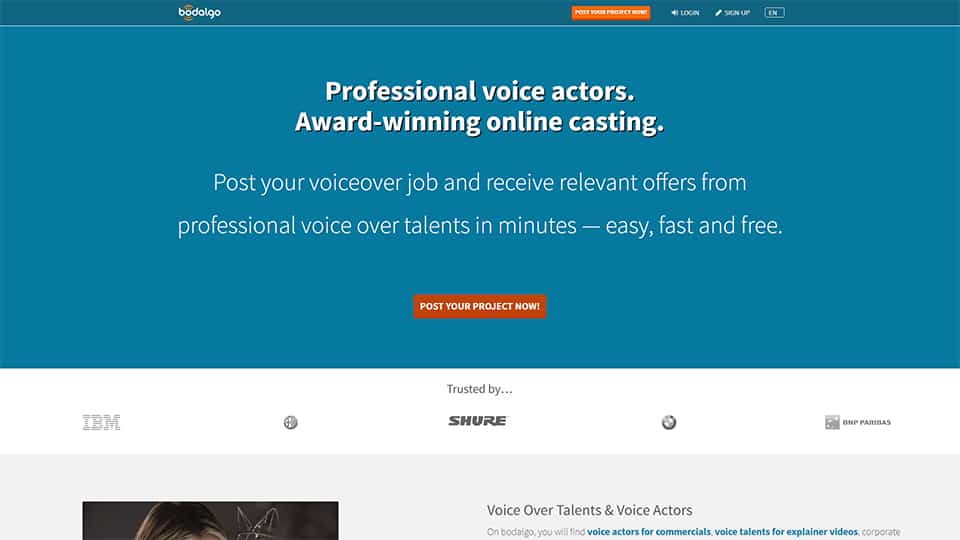 Bodalgo was created in 2008 and is an award-winning professional voice actor platform. Today Bodalgo features 12,601 voice-over talents in more than 80 languages.
Thousands of clients are posting their projects each day intending to find the best voice-over that will suit their needs.
If you want to join Bodalgo, you simply need to sign up as a voiceover talent, complete your profile, and upload some demos. After that, you can browse and send your offers to thousands of jobs posted by clients worldwide.
The two most fitting categories for you, if you want to get paid to read books aloud, are "Audio Books/Audio Guides" and "eLearning/Tutorials". There are a lot more categories than those if you want to try out new things though.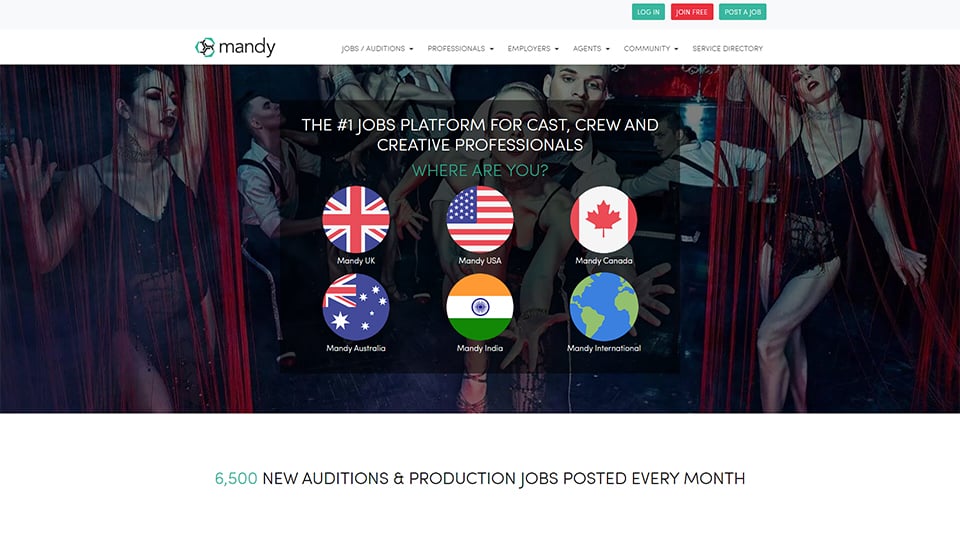 Mandy is a large creative community that doesn't focus exclusively on voice-over work but you can still get paid to read aloud. They provide their services internationally, but the countries with the most gigs are the USA, UK, Canada, Australia, and India.
Their network consists of actors, film and TV production, theater professionals, voice-over artists, singers, dancers, music professionals, entertainers, and more.
If you are artistic by nature and want to do voiceovers in these kinds of categories, then Mandy is one of the best platforms to do so.
You can sign up with a free account but if you want to have better chances of landing jobs you should consider becoming a premium member as this will give you more details about the available projects.
You can search and apply for voiceover jobs by going to the "Voiceover Artists" category and looking through the available listings.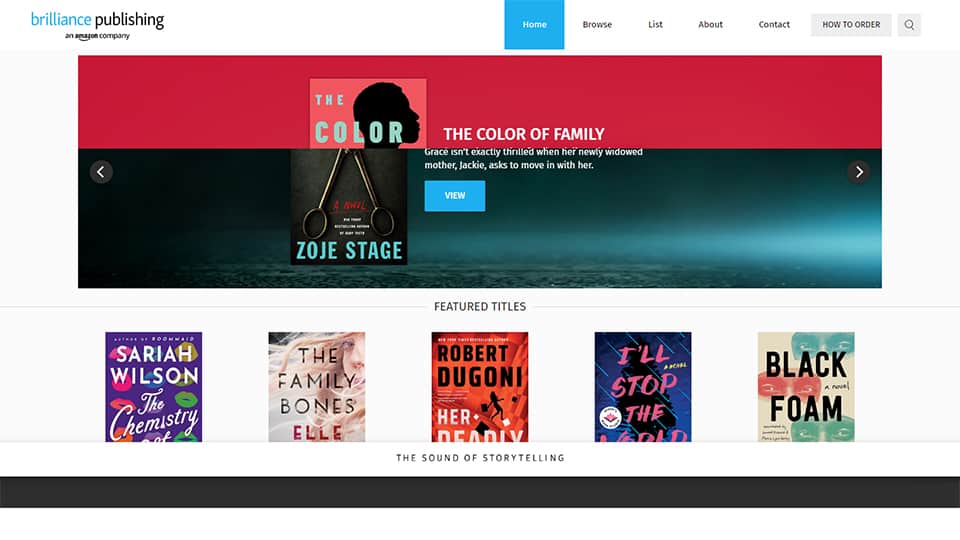 Brilliance Publishing is owned by Amazon and is an independent publisher website that helps authors create high-quality audiobooks.
The audiobooks made on this platform are published directly on Amazon and Audible, so If you want to get paid to read books aloud for Amazon this is a great opportunity.
You can find a lot of categories to choose from when searching for books to read. Some of them include:
Biography
Romance
Classics
Thriller/Suspense
Entertainment
Fiction
History
Psychology/Science
Self Help
If you are interested in working with Brilliance Publishing as an audiobook narrator all you have to do is contact them via email and they will inform you of all the steps you have to take.
One thing you have to keep in mind is that they are kinda choosy of the narrators they let onboard because they claim to only have the best performers available.
It is not impossible to get accepted though if you take into consideration that they even accept beginner narrators as long as they match their basic criteria.
Voquent is a website that provides translations and voice-over for multilanguage films, advertisements, and eLearning projects worldwide. You can find voice-over and narrator jobs in any language or accent.
Many voice actors and narrators use this platform to get paid to read books aloud and this is a great opportunity if you really love this job.
Voquent is a well-rated platform that many freelancers trust and you can find many lucrative opportunities if you know what you're doing.
If you are thinking to join Voquent you need to sign up by creating a free profile, optimize your profile to get found by as many clients as possible, and you'll be ready to start getting paid as a narrator.
After your demos get picked, you can immediately start working on projects and you are paid instantly on approval.
If you want to know how you can set up your account for success, you can check out their "Get Voquent Ready" article where they'll talk you through all the steps you need to take.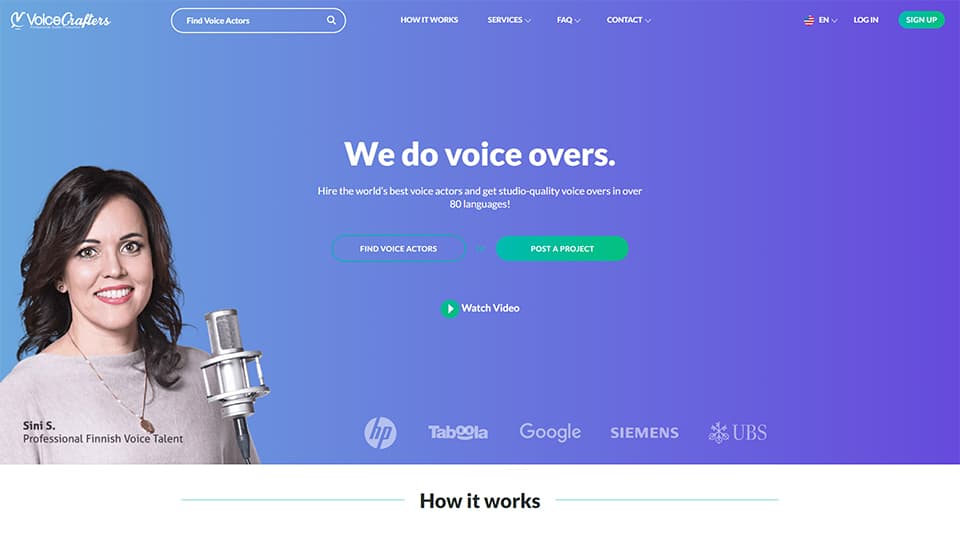 Voice crafters is another platform where people can hire voiceovers for their projects in any language. People can post projects in 80+ languages so if you are not necessarily from the US you can still get paid to read books aloud on this platform.
Some of the most popular categories you can choose from include:
Narration
E-learning
Audiobooks
Commercials
Animation
Video Games
Movie Trailers
Documentaries
When people post their projects, Voice crafters finds the best voice-over talents for them automatically but they can also listen to voice samples and invite voice actors manually.
When the client receives your narration/voiceover and is happy with it, they can approve and release your payment with a click of a button and you receive it immediately.
If you are interested in working with Voice Crafters, you can sign up as a voice actor and start earning today.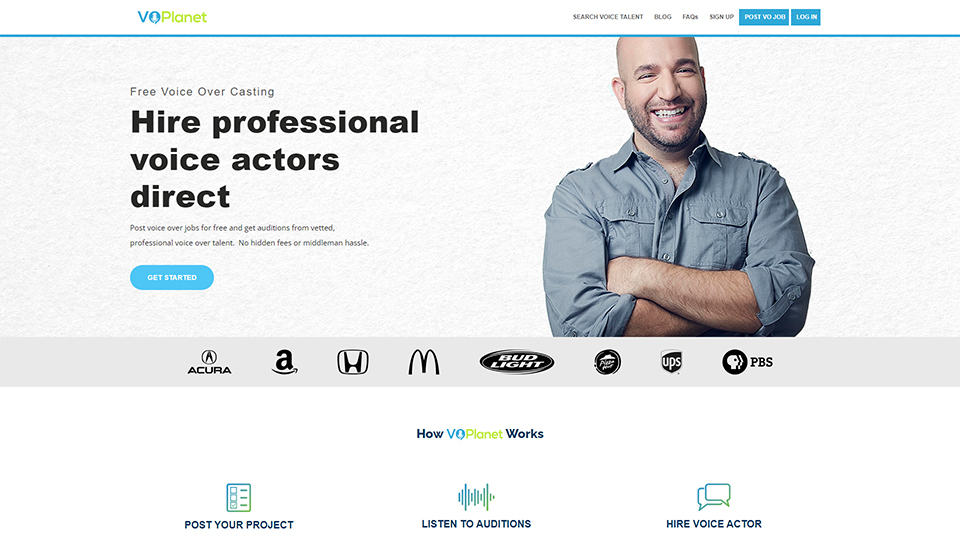 Vo Planet is a legitimate voice-over platform that has worked with big brands like Amazon, McDonald's, Pizza Hut, and Honda. So if you love narrating books aloud for money this a very good place to start.                                                  
All you have to do is sign up as a voice actor, fill out your account details, and apply for them by answering a few questions and uploading an audio sample.
If your application is approved you will then receive a link to activate your membership. Keep in mind that the VO Planet membership fee is $199 a year but they have 0% fees and don't take any commissions from you. As such, you get to keep 100% of the earnings you make.
When someone likes your voiceovers they will send you a message via the platform so that you can connect directly with them and talk about all the details of the agreement.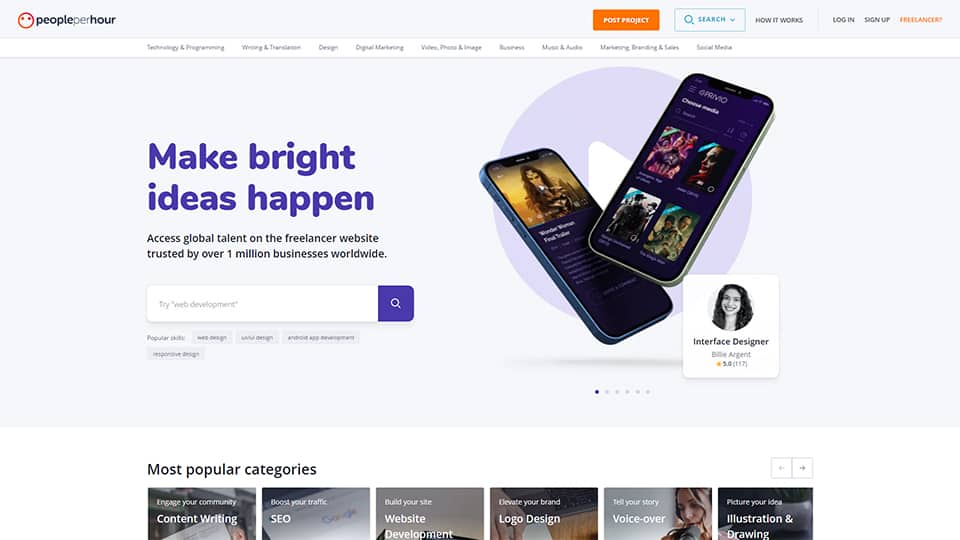 People per Hour is a great freelance platform where you can find many clients by posting your services under the right category.
This website uses AI-powered technology that matches freelancers with clients automatically based on their skills. That's why it's really important to create your profile with as much detail as possible, including keywords that describe your skillsets and expertise.
If you want, you can also search for posted projects manually but keep in mind that you can send 15 proposals per month. Every month, you get 15 free credits and you can spend those for sending proposals to clients.
If you want to send more than 15 proposals in a single month, you'll have to buy more credits so spend them wisely. You can read more by visiting the official article.
To sign up with People per Hour you simply have to create a freelancer profile and then all you need to do is post your services under the Music & Audio > Audiobook category so you can get found by the appropriate clients.
Related Articles:
More freelance sites where you can get paid to narrate books
Upwork is a great place if you want to find even more clients who want to hire narrators for their projects. Thousands of freelancers use it to make money reading books aloud and you can find thousands of opportunities there.
Fiverr is one of the most well-known platforms where you can make money by offering your services. You can post a gig, describe what you are offering, and let people find you through the search.
If you make a professional-looking profile with a couple of positive ratings you will be able to land even more gigs because people tend to prefer well-rated freelancers.
Flexjobs is a similar platform where you can find more work as a freelance narrator. Many people use Flexjobs to find remote work and you can get paid to read books online at your own home.
Freelancer is another great freelance platform that connects freelancers with people all around the world. You can find jobs to read books for money and make some good extra cash every month.
Is previous experience needed for reading books aloud?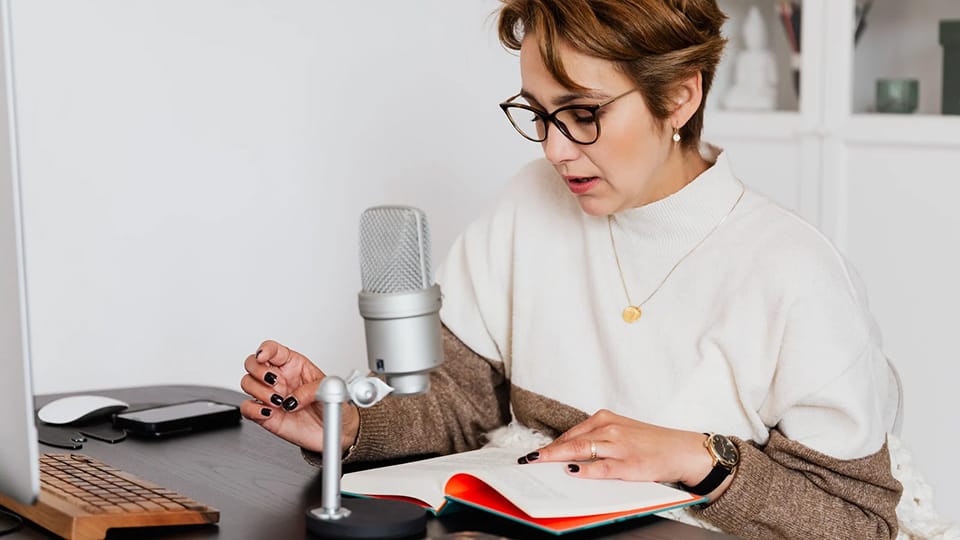 In most of the websites mentioned above, you don't need to have any previous experience at all. Some of them may require some experience and may be pickier when it comes to who they accept but everything you need to know will be clearly explained on the sign-up page.
Of course, having experience as a narrator is surely a plus and it may be easier for you to attract clients. As I mentioned above, book narrators with some experience tend to get paid more than amateur narrators but the latter can still make a lot of money out of it.
What do I need to become an audiobook narrator?
As you can imagine, it doesn't matter how great of a voice you have if you don't have the appropriate equipment to capture it. Even if you don't have the best voice, the right equipment can really help your voice shine.
If you want to narrate books for money then you should have the right equipment right from the start. Below we will see all those things that will help you sound like a professional audiobook narrator.
A Soundproof room/ home studio
A Desktop or Laptop computer
A good quality microphone
A shock mount/ microphone stand
An Audio editing software/ Digital audio workstation (DAW)
When it comes to microphones, you can still use high-quality USB mics but if you want the best sound possible you should use cardioid condenser microphones.
Those microphones reject any background noise and are sensitive to sound coming from the front, thus making them ideal for narration.
USB Mics: Blue Yeti, Fifine USB Microphone, Audio-Technica AT2020+, Rode NT-USB
XLR Mics: Shure SM27, Audio-Technica AT4050, Electro-Voice RE20, Neumann KM 184
How to be a successful book narrator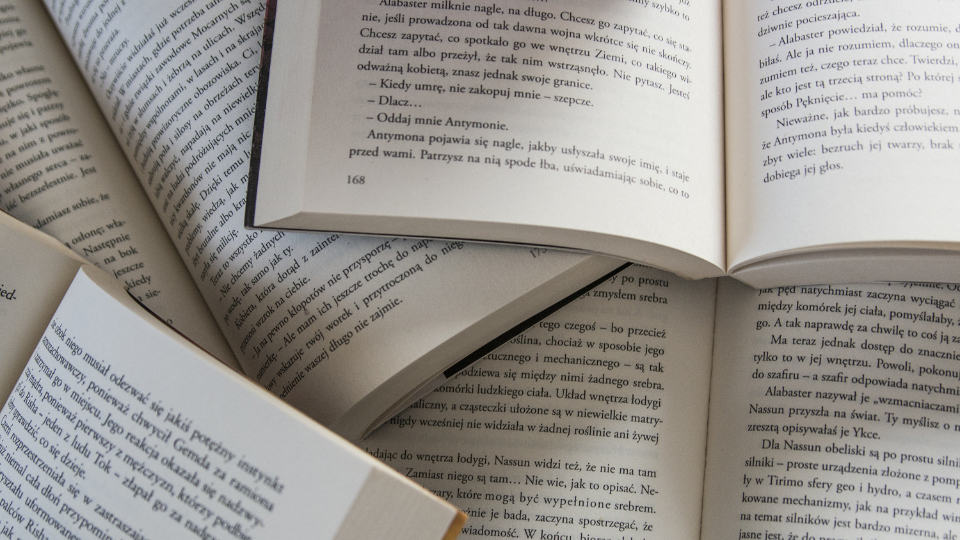 The first and most important thing you should know if you want to succeed as a book narrator is to have a passion for it. Of course, that's the number one rule with every job, but as much of a cliché as it may sound it is 100% vital.
Successful narrators don't become successful overnight. Success comes with years of work. That's the only way you can develop your skill as an audiobook narrator and really stand out in this field.
Successful book narrators usually have one or more of the following skills:
Great articulator
Characterization
Breath Control
Intuitive pacing
Eye-Brain-Mouth Control
Stamina and endurance
Delivery
Tone and consistency
Separation
When you sign up for a website as a freelancer, always make sure to have a rich profile listing all your skills. The better your profile is, the more chances clients will choose you for their projects.
Moreover, the key to being a successful narrator and making a lot of money out of it is to have a consistent performance and engage the listener by bringing the story to life with your voice.
Last but not least, you can sign up for multiple websites if you want to maximize your earnings and find more people interested in what you provide.
As you can see, making money from reading books aloud is a legit and profitable remote job that you can do from the comfort of your own home.
If you think you got what it takes, I highly recommend you try out a bunch of platforms and see if reading books to make money is your thing.
Keep in mind that this side hustle can be very lucrative if you are good at it and the high demand for audiobook narrators is not going to die any time soon.
FAQs
How much do audiobook narrators get paid?
You can expect to earn anywhere from $50 – $250 per hour as an audiobook narrator. If you start working as an amateur narrator expect your earnings to be in the lower range. On the other hand, you can certainly earn up to $250 per hour as an experienced narrator.
How do I get paid to read books on Amazon?
If you are a book lover, there are many opportunities you can get paid to read books on Amazon. Some of the most popular ways include proofreading Amazon books, reviewing Amazon books, or narrating audiobooks on platforms like Amazon's Audiobook Creative Exchange (ACX).
Can you really make money on Audible?
Yes. You can make a lot of money narrating audiobooks for Audible. You will have to sign up for Amazon's Audiobook Creative Exchange (ACX) where you can get paid to read books online that will later get published in Audible, iTunes, and Amazon Kindle.
Does ACX really pay?
Yes. Amazon's Audiobook Creative Exchange (ACX) is a well-trusted platform that pays audiobook narrators by direct deposit or via check when you have completed a project.
Before receiving payments though, you should make sure to submit all the necessary documents required like a valid taxpayer identification from the US, UK, Canada, or Ireland, and also some basic banking information.
Get Paid to Read Books Aloud (Earn $250/Hour) In 2023