Learn how to get paid to be a virtual friend and earn extra income for offering your online companionship to people.
Are you a sociable person that's always excited to meet new people? If yes, what would you think if I told you that you can also make money from it?
Yes, as odd as it might sound, you can actually get paid to be a virtual friend online.
Have you ever heard the terms cyber friend, online friend, virtual friendship, or online companionship? They all relate to the same thing and it has become a legit way to make money online.
Nowadays, with the Internet, human interaction has evolved, and more people are spending time online to communicate with friends and family.
Online communications are simply another form of human interaction and as a matter of fact, a great percentage of people of all ages have at least one online friend that they keep in contact with.
In this article, I am going to tell you everything you need to know about how you can make money as a virtual friend and how you can do it as safely as possible.
This article may contain affiliate links. Please read Disclaimer to learn more.
What is a virtual friend?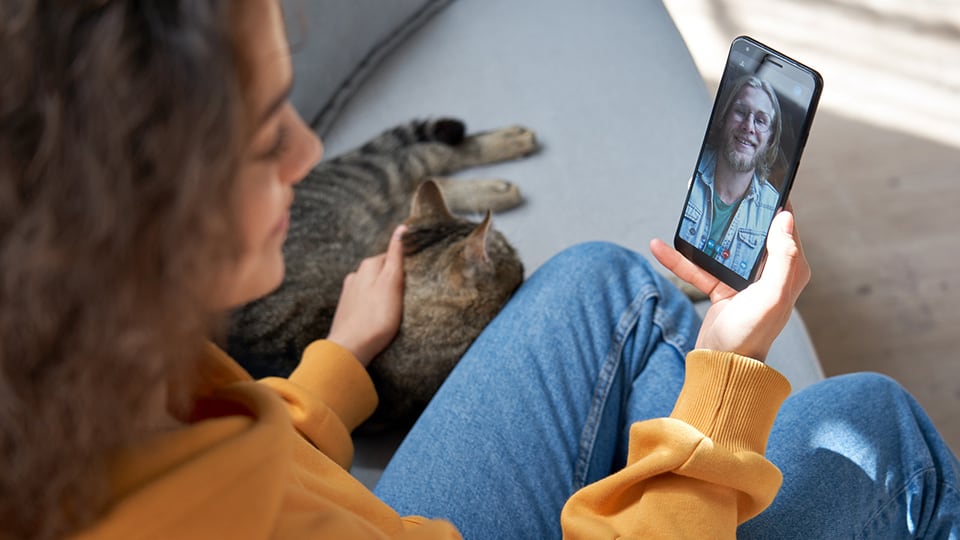 Loneliness has always been a huge problem in our society and that's where a virtual friend comes into play.
A virtual friend is a real person that's getting paid to talk or video call with people that feel lonely, bored, or simply want to discuss a matter with someone.
It's exactly like a friend in real life with the only difference being that with a virtual friend you can only interact online. It's similar to friends you have on social media.
Nowadays, finding online companionship is super easy and many virtual friendship websites can help you with that.
So if you want to earn extra money in your free time, and you like meeting and chatting with new people, you can get paid to be an online friend.
Why do people pay for online friends?
Many people, especially since the pandemic, have started chatting and video calling with others more, as a way to feel less lonely.
We, humans, are by nature social species and we need to socialize and connect with others in order to have a healthy mental state.
Sometimes, we stay at home way more than we are used to and that can have all types of negative effects in our daily lives. That's why we are looking to connect with others online.
Moreover, people with few or even zero friends can struggle with feelings of loneliness and thus seek connections online.
On the other hand, some of us just love to meet new people and create new connections with individuals all around the world even at home.
So, whatever the reason, meeting and chatting with people online can always be a fun thing to do and it has many advantages for one's self. Some of them include self-development, more self-confidence, and increased happiness.
*SPECIAL OFFER* SAVE 70% ON BLUEHOST HOSTING! Start your own blog with only $2.95/month (Normally $10.99) and build your online business today!
Check out my step-by-step guide and start your blog today!
What does a virtual friend do?
Every person is different and that means you will have to get to know each other before you find out what the other person likes. And that's expected.
After all, you are getting paid for virtual companionship and to provide someone else with what he needs. (only appropriate things of course, we will talk about how to be safe while being an online friend later in the article).
In general, virtual friends can find themselves doing things like:
Chatting freely or about current matters
Playing video games online
Supporting the person through a hardship
Video calling
Watching movies together
Giving advice on various matters
Talking on the phone
How much can you make as a virtual friend?
Usually, you can expect to make around $20/hour but in some cases, you can even make $50/hour depending on the platform and the things you get asked to offer as a virtual friend.
As with every side hustle, the more time you spend being a virtual friend, the more money you will make.
Below, you can see an example of how much you can make as a virtual friend if you dedicate yourself to it. (this example is based on $20/hour)
| | | | |
| --- | --- | --- | --- |
| Work Hours | Weekly | Monthly | Yearly |
| 5 | $100 | $400 | $4800 |
| 10 | $200 | $800 | $9600 |
| 20 | $400 | $1600 | $19200 |
| 30 | $600 | $2400 | $28800 |
Sites where you can get paid to be a virtual friend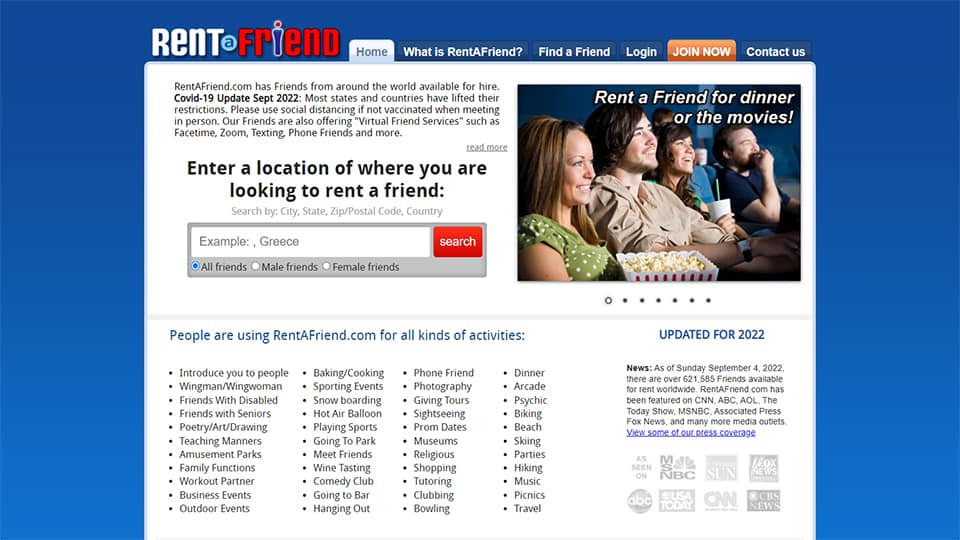 Rent a Friend is amongst the most famous and most trusted websites where you can get paid to be a virtual friend. People all over the world can simply enter their location and find virtual friends to rent near them.
If you are interested to provide your services as a virtual friend, all you need to do is register and fill out all the necessary information to complete your profile.
Once approved, your profile will be visible, and people near your area will be able to find your profile and contact you if they are interested in you.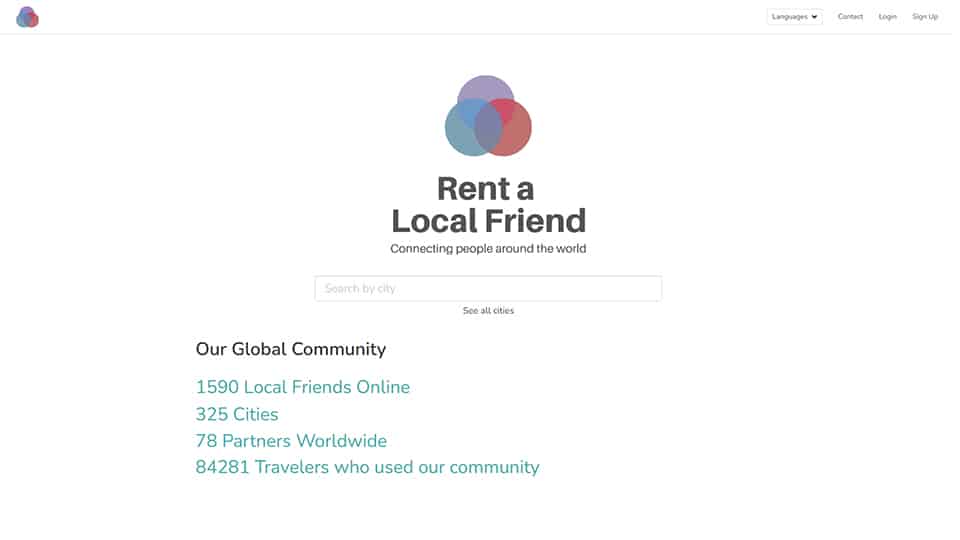 Rent a Local Friend is another well-known platform that's connecting people all around the world for quite some time.
It initially started as a platform for people to show strangers/tourists around areas while getting paid, but now it also provides services like getting paid as a virtual friend.
The services it provides worldwide are the following:
Tips & Traps – Remote Concierge
This is where you rent a friend that will help you with any questions you have or tips you might need about destinations you want to visit. The interaction between the individuals will be online via chat or video call.
Local Friend
This is where you can rent a local friend that you'll meet in real life in the area you want to visit. He/she is going to show you around and answer any questions you have about the area.
Virtual Friend
This is where you can provide your service as a virtual friend and spend your time with someone online. You can talk about places around the world or anything you really like as long as you both agree to it.
The way Rent a Local Friend works is simple. First, people select a city and filter the service they are looking for. After that, they can contact the available people they choose and you get to accept or deny their request.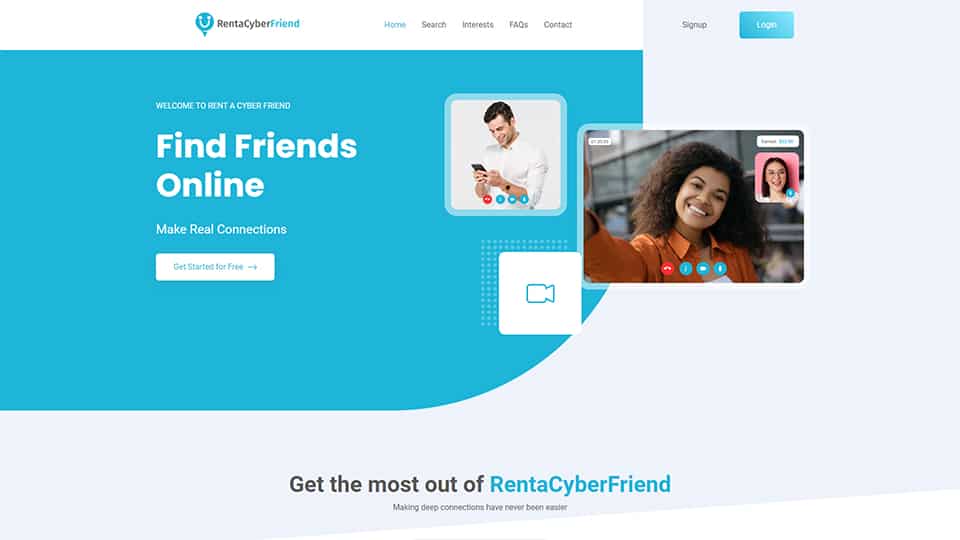 Another similar platform where you can earn money as an online friend is Rent a Cyber Friend. People use this platform to find others to video call and chat about whatever they want.
After creating an account and filling out your profile information, you will have to choose your interests through tags. Then, people will find your profile if they have similar interests, and if they like you enough, they will want to get in contact with you.
Make sure to configure your price and fill in your bank account information as Rent a Cyber Friend will pay you via wire transfer. After that, you'll be ready to go.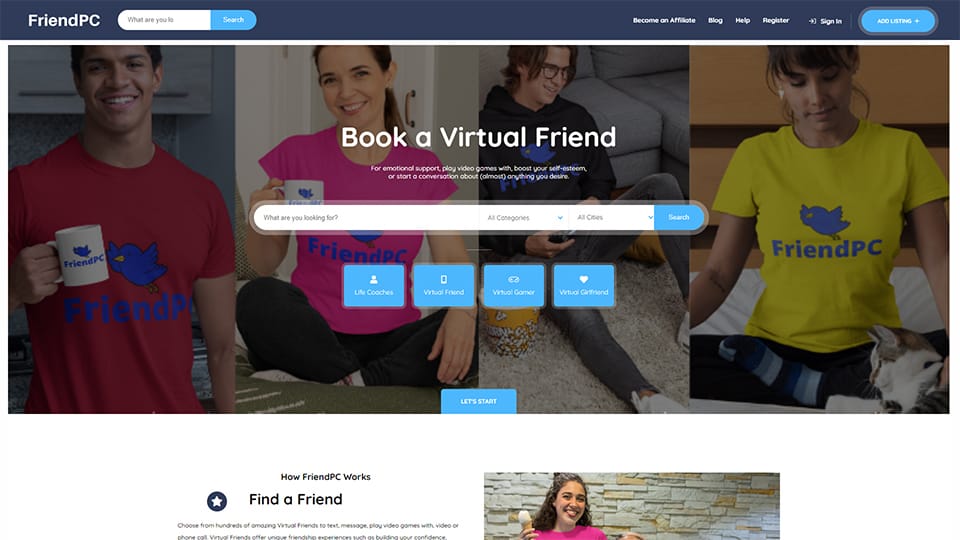 FriendPC is another large friendship platform where you can get paid for companionship. You can provide your services as a virtual friend to many people all over the world.
FriendPC virtual friends find themselves doing a variety of things such as:
Conversating about almost anything
Playing video games
Providing emotional support
Watching movies together
Providing life coaching
One feature FriendPC has that I like, is that you don't need to wait until the end of the week or month to get paid. Instead, you can go to your revenues page and withdraw your earnings whenever you want.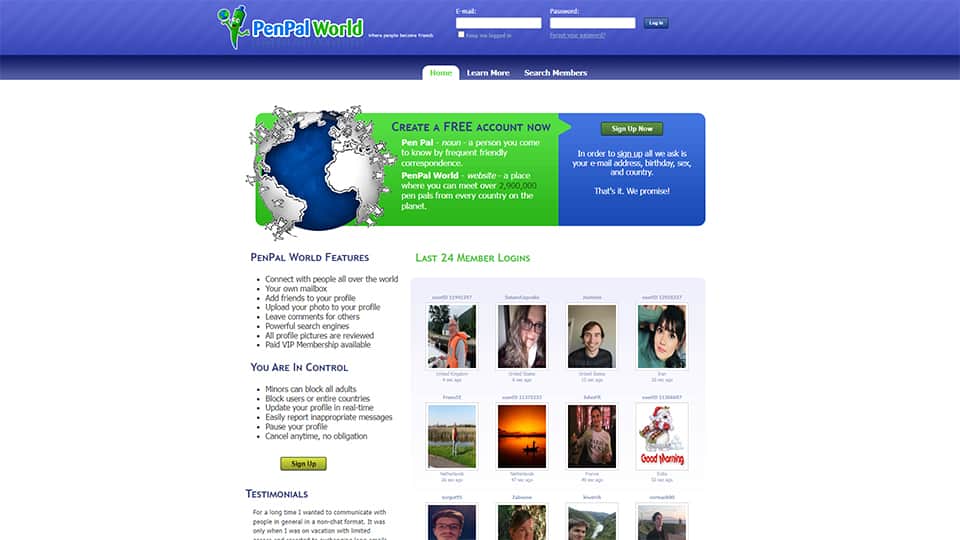 PenPal World is a great place where almost 3 million people search for virtual friends every single day.
If you want to make money as an online friend with PenPal World, you can go ahead and sign up today.
After filling out your basic information, such as your email address, birthday, sex, and country, you will be able to start making money when someone chooses you as their virtual friend.
Last but not least, PenPal gives you full control over who you interact with. More specifically, you can block users/countries, easily report inappropriate messages, pause your profile or cancel anytime.
TIP: If you want to make more money as a virtual friend I would recommend you to sign up to more than one website so you can receive even more friend requests.
Related Articles:
Freelance websites where you can offer virtual friendship online
Freelancer is a great place where many freelancers provide their services to millions of people worldwide and so can you.
You can sign up as a freelancer, list your services, and start getting paid as a virtual friend today.
The more you build your credibility and positive ratings, the more people will trust you and request your services.
You can also offer your friendship services on Fiverr. Many people use Fiverr daily and it's a great place for people to find you and hire you as an online friend.
You can go ahead and sign up for Fiverr, list your services, and start receiving requests today.
You can check Fiverr's friendship gigs page to see the top-rated friendship services and get ideas on how to make a strong profile that stands out.
How to get started as a virtual friend
Now, before you even start getting paid as a virtual friend, there are some steps you need to take. After completing the following steps you will be all set and ready to receive friend requests and start making money.
1. Sign up and create your profile
When you first sign up for a virtual friendship website, you will have to take some time to fill in your personal information.
You have to do that as accurately as possible because the friend requests you will receive are going to be based on your profile info.
Take your time and make sure you provide your information accurately because on some platforms you may not be able to change them later.
2. Complete the personality test
Most of the platforms that offer virtual friendships will require you to take a personality test. This is only going to take a few minutes but it's a really important step if you want to get matched with the right people.
The whole purpose of this test is for the platform to get to know your personality and show your profile to people with similar interests.
3. Fill in your bio
After that short quiz, you will need to further describe your personality by filling in your bio/profile description.
In this section, you will have to fully describe yourself, your hobbies, and how you like to spend your time.
Also, have in mind to create a profile that stands out if you want to have a higher chance of people choosing you over other online friends.
4. Add your payment details
Another important thing before you start receiving payments as a virtual friend is to add your payment details. Most of the websites pay by PayPal or wire transfer.
In most cases, you will have to go to the settings and look for the payment details section.
5. Activate your profile and start receiving requests
Once you have completed everything, your profile will be ready and accessible to everyone. From now on, people can find you in the search results of the platform and if they get interested in you, they will most likely send you a message or request.
Usually, when someone contacts you, you will also get notified by email, otherwise, you can just check your messages/notifications on the website to see if you have any new messages.
Get paid as a virtual friend through your own website
If you are serious about getting paid to be a virtual friend, you can also consider starting your own website where you can offer your virtual friendship to others.
Owning a website will allow you to set your own prices, and keep 100% of your earnings, so it's an even better choice if you are looking to dedicate yourself to doing that.
Nowadays, you can start a website with just $2.95 per month so you don't need to worry about having to spend a lot of money to set everything up.
If you are interested, you can check out my easy guide on how to start your own website today.
Things to consider before becoming a virtual friend
Before jumping into this whole get paid to be a virtual friend side hustle, you will need to make sure that this is something suitable for you.
Don't just jump into it if you only care about the money. You will have to actually enjoy interacting with people and spending time with them online.
If you go for it just for the money, you will most likely not enjoy it, and people won't be choosing you again because of your low efficiency as a friend.
Moreover, you may not be a very sociable person or you may not be a very good listener. In those cases offering online companionship may not be for you.
So take a few moments to really think about your qualities as a friend and decide if you would be a good companion to people that need someone.
How to stay safe as a virtual friend
Being a virtual friend is a great and exciting way to make money online but as with every online job, you'll need to be careful and take some precautions if you want to be as safe as possible.
First and foremost, you should know that platforms that offer paid companionship are meant for just platonic relationships. They are not meant for flirting or dating.
Having that in mind, you shouldn't accept things like flirting, being asked to do inappropriate things, or anything else related to that.
Now, let's take a look at some of the things to have in mind when you offer your friendship services online.
Make sure to only sign up to legitimate virtual friendship sites
Don't do anything that goes against your boundaries or beliefs
Do not share personal information (bank accounts, id, cards, home address e.t.c.)
Make sure to double-check your client's profile before accepting his/her request
Know that if at any moment you feel uncomfortable, you can end an online friendship at any time. Also, you can report, or block anyone that bothers you in any way.
Final Thoughts
As you can see, getting paid as a virtual friend online is a great way to earn extra money in your free time and can also be a very entertaining activity.
As long as you take every safety precaution and there is mutual respect between individuals, this can really be a fun job to do while making decent money on the side.
If you are interested in trying this, I would suggest you sign up for one or more virtual friendship websites, follow everything I mentioned above, and try to make it fun for you and the people you interact with.
FAQs
How do I get paid for virtual friendship?
There are many ways to get paid as a virtual friend depending on the platform you use. If you use freelance sites like Fiverr and Freelancer, you are most likely going to get paid via Paypal, Payoneer, or wire transfer.
If you use platforms similar to RentaFriend they have various methods of payment such as Paypal, wire transfer, or Stripe.
Whatever the case, always check how a platform pays you, and make sure to fill in your payment details before you start working as a virtual friend.
Are online friends the same as real friends?
Online or virtual friends are real people who spend time and connect with you exactly as your real friends would. The only difference is that you can only spend time with virtual friends online as the name suggests.
Having said that, that doesn't make online friends any less human than the people you meet in real life.
Can I get paid to chat online?
Yes, you can find platforms where you can get paid to just chat online with others, and you can do this from everywhere as long as you have an internet connection and a smartphone or laptop.
Some of the sites you can sign up to chat online include Flirtbucks and Chat Recruit. Getting paid for chatting online can be a great and interesting way to earn some extra money.
Is RentAFriend safe?
Rent A Friend is a well-known and legit website. As with every virtual friendship platform though, you'll have to follow the guidelines and never share any personal information if you want to be safe.
Also, keep in mind that Rent a Friend doesn't do any background checks for people who join the platform so you will have to be careful and double-check people's profiles before you accept their friend requests.
Get Paid to Be a Virtual Friend (Earn $50/Hour) In 2024